Go the F**k to Sleep By Adam Mansbach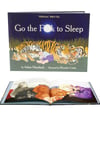 A perfect Mother's Day gift!
Not for the faint hearted - WARNING CONTAINS BAD LANGUAGE
Go the F**k to Sleep by Adam Mansbach (Hard cover - 21cmx16cm)
Go the F**k to Sleep is a bedtime book for parents who live in the real world, where a few snoozing kitties and cutesy rhymes don't always send a toddler sailing blissfully off to dreamland. Profane, affectionate, and radically honest, California Book Award-winning author Adam Mansbach's verses perfectly capture the familiar-and unspoken-tribulations of putting your little angel down for the night. In the process, they open up a conversation about parenting, granting us permission to admit our frustrations, and laugh at their absurdity.
With illustrations by Ricardo Cortés, Go the F**k to Sleep is beautiful, subversive and pants-wettingly funny-a book for parents new, old and expectant. You probably should not read it to your children.
Extract
The cats nestle close to their kittens,
The lambs have laid down with the sheep.
You're cozy and warm in your bed, my dear.
Please go the f**k to sleep.
The windows are dark in the town, child.
The whales huddle down in the deep.
I'll read you one very last book if you swear
You'll go the f**k to sleep.
The eagles who soar through the sky are at rest
And the creatures who crawl, run, and creep.
I know you're not thirsty. That's bullshit. Stop lying.
Lie the fuck down, my darling, and sleep.
Reviews
"Nothing has driven home a certain truth about my generation, which is approaching the apex of its childbearing years, quite like this." –The New Yorker
"A parenting zeitgeist" –Washington Post
"A hilarious take on that age-old problem: getting the beloved child to go to sleep."–National Public Radio
"A new Bible for weary parents" –New York Times
"Resonates powerfully with almost everyone" –Boston Globe
About the Author
Adam Mansbach's novels include The End of the Jews, winner of the California Book Award, and the best-selling Angry Black White Boy, a San Francisco Chronicle Best Book of 2005. His fiction and essays have appeared in the New York Times Book Review, the Believer, Granta, the Los Angeles Times, and many other publications. He was the 2010–2011 New Voices Professor of Fiction at Rutgers University. His daughter, Vivien, was three at the time this book was written.
You can hear Samuel L Jackson read Go the F**k to Sleep on the link below - WARNING DO NOT PLAY WHILE LITTLE HUMANS ARE AROUND!
https://www.youtube.com/watch?v=Udj-o2m39NA
We also have You have to F**king Eat by Adam Mansbach available online too so be sure to check it out!